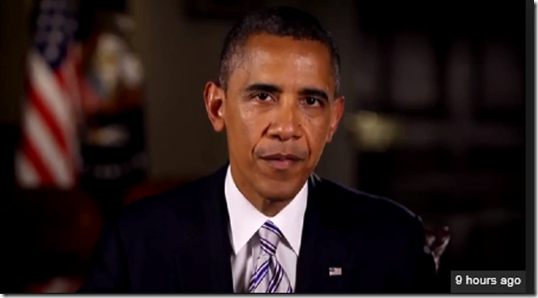 On Thursday President Obama sent a video to the Netroots Nation 2013 gathering in San Jose California. He knows that many are looking at some of his policies with skepticism.
His video starts with his speech at his inauguration. It highlights all the liberal policies enacted. They included his support for women rights policies, gay rights policies, healthcare policies, and many other policies.
He then highlights policies that still need to be accomplished. He implored Netroots Nation 2013 to help him message the country to ensure that the Affordable Care Act is implemented correctly and to encourage people to sign up to ensure its overall success.
Obama made a statement every Netroots Nation member believe. Specifically, Republicans will regret being on the inhumane immoral side of the healthcare debate after its successful implementation and improvement. When Americans realize that they had once again been hoodwinked and lied to by Republicans on both the healthcare issue and economics, they will pay dearly at the ballot box.
President Obama stayed away from three contentious issues that are bubbling up here at Netroots Nation. He did not discuss the Pan Pacific Trade agreement, the NSA surveillance program, or the Keystone XL Pipeline. He tacitly addressed it stating he needed the help of Netroots Nation even though there are times there will be disagreements.
One would think that Netroots Nation 2013 would be extremely sour with the President given some of the issues including his early support of chain CPI and mild austerity. While the atmosphere is not as jovial as 2010, it is still very supportive.
---

LIKE My Facebook Page – Visit My Blog: EgbertoWillies.com
Follow @EgbertoWillies