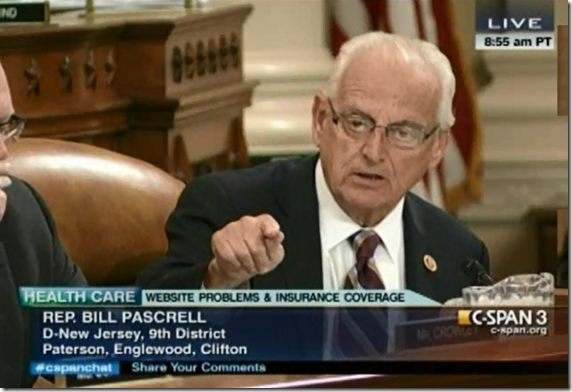 Republican Senators continued to lie on cue. They gave speeches about people losing their insurance coverage because of Obamacare. They accused the President of breaking his promise where he said if you like your insurance you can keep it.
Of course they failed to state that many people who believed they had insurance did not. They usually found that out when they went to the hospital and realized they were not covered. Many times they found out that many drugs are not covered. In effect what they had was a semblance of having insurance. Instead of protecting the well-being of their citizens, they allow their demagoguery to reign.
One must be proud of Congressman Bill Pascrell for not allowing Republicans to pull the wool over the eyes of Americans. The hearing today was a continued sham. The following exchange between Congressman Bill Pascrell (D-NJ) and Congressman Tim Griffin (R-AR) was epic.
Rep. Bill Pascrell (D-NJ): Despite Democrats' opposition to Part D ten years ago we committed to making the best of the program. … We lost the policy fight. And what did we do? We went back to our districts. And we told our seniors although we voted no, we personally believe and would work with the Bush administration to make it work. That's what we did. And how many of you stood up to do that. … What are you going to do about the approximately seventeen million children with pre-existing conditions who can no longer be denied health insurance coverage. … You are going to tell the parents of those kids? Which one of you is going to stand up and tell the parents of those children, the game is over. Sorry, that was just a failure.

Rep. Tim Griffin (R-AR): Will the gentleman yield.

Rep. Bill Pascrell (D-NJ): Yes I will.

Rep. Tim Griffin (R-AR): It's a false choice to say it's Obamacare or nothing. There are numerous proposals including the one I am a co-sponsor of. …

Rep. Bill Pascrell (D-NJ): Are you really serious; after what we have gone through over the last three and a half years? You can sit there and say that you had a legitimate alternative after these years? We've gone through 44 votes, 48 votes now of you trying to dismantle this legislation. You call that cooperation? I don't.

Bill Pascrell Let's Them Have It
The intransigence and hypocrisy of the GOP had Congressman Bill Pascrell very animated. He stood up and admonished the Republicans several times.
Rep Tim Griffin attempted to say that he was a cosponsor of an alternative to Obamacare. The reality is that the GOP has never released a comprehensive alternative. They have voted 44+ times to repeal the Affordable Care Act. They have not shown any concern for those that are gravely hurt by the pathetic state of the American healthcare system.
---

LIKE My Facebook Page – Visit My Blog: EgbertoWillies.com
Follow @EgbertoWillies