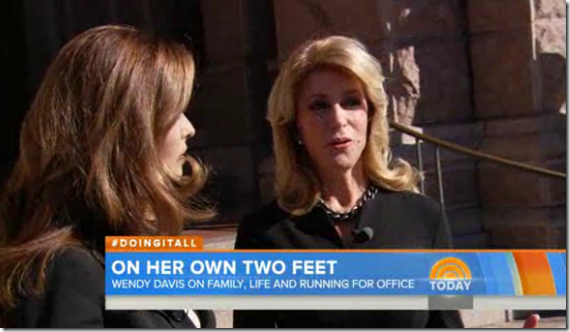 Texas State Senator & Gubernatorial Candidate Wendy Davis was interviewed by Maria Shriver on NBC. Maria Shriver did a great job taking America and specifically Texans through the Wendy Davis story. Specifically she covered her ascent from living as a single mother in poverty in a trailer park to a Harvard scholar and ultimately a star in politics who remembers where she came from.
Wendy Davis took Maria Shriver to the trailer park where she lived and had a prescient statement. "I tried really hard not to put this in the rearview mirror," Wendy Davis said. "I've tried to keep it present."
A politician who has lived in poverty and hard times can empathize with those she governs. A politician who had to use public service at times to get a hand up to be self-sufficient and a net benefit to society understands the policies that have material effects on the lives of the middle class and the poor.
Maria Shriver asked Wendy Davis if she felt she was living in poverty during her difficult years. Her answer was the answer many Americans and Texans could have recited.
"I knew I was poor because of the struggles that I and my young daughter Amber were experiencing," Wendy Davis said. "I was having a really hard time making ends meet, paying for my child care, a car payment, and making sure I kept the lights turned on sometimes didn't happen."
Wendy Davis told her full story to the National Press Club a few months ago. It was more complete than the story she had the time to provide to Maria Shriver for this expose.
Here is her interview with Maria Shriver.
Wendy Davis expose presented by Maria Shriver.
Close to the end of the piece Maria Shriver interviewed Texas Tribune editor Evan Smith. When asked if Wendy Davis is more a national star than a Texas star, his response was interesting. He said she is attracting a lot of national and international attention that does not necessarily translate into votes. He then categorically states that Texas is a Conservative state.
While the outcomes of Texas elections have reflected a Conservative state, the fact that Evan Smith's analysis was so superficial shows that like much of the Traditional Media, he is behind the trend. Evan Smith should be covering the panic in Texas Right Wing organizations right now. They are not taking the possibility of a Wendy Davis win lightly.
Evan Smith joins the chorus of visionless journalists and pundits who err on a cautious past while reporting, as opposed to hitting the pavement and taking the real temperature of the populace. This is obvious when one reads stories like Chris Cillizza's Washington Post article titled "Wendy Davis raised $12 million. That means less than you think" where he dismisses Wendy Davis in an offhand manner.
Biased negative coverage can have a marginal depressive effect on voters. That effect is mitigated by the increasing pain of the disenfranchised voter that will ultimately awaken the grassroots. The national, state, and local punditries seem to disregard the recent Republican to Democratic Party switches that have been occurring. They seem to disregard the spring revolt and the summer revolt at the Texas Capitol in Austin Texas.
Texas Tribune's Evan Smith fails to give context to Texas. Texas is not a Conservative state. Texas is a state whose citizens don't vote. A much larger percentage of Conservatives vote while mainstream Texans for various socioeconomic and systemic reasons don't. That is the story that most in the media do not cover.
To be sure, Wendy Davis raised $12.2 million in the second half of 2013. That is more than her likely rival, Greg Abbot, who raised $11.5 million. Though Greg Abbot has much more cash on hand ($20+ million), Wendy Davis has crossed the psychological and credibility barrier. With Battleground Texas going full speed to register and inform voters, she will likely be the next governor of Texas if Texans perform consummate to the fire they displayed last summer.
---

LIKE My Facebook Page – Visit My Blog: EgbertoWillies.com
Follow @EgbertoWillies