Justin Bieber Arrested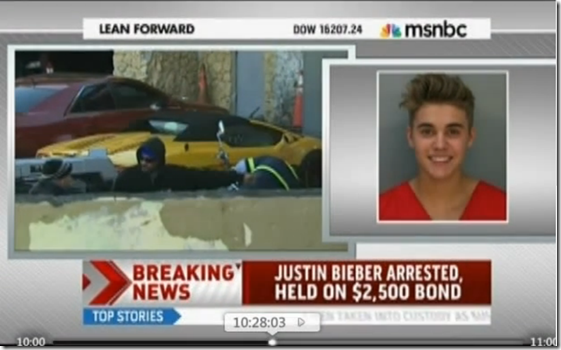 Justin Bieber was arrested today. According to CNN,
Justin Bieber was charged with drunken driving, resisting DUI arrest and driving without a valid license after police saw the pop star street racing early Thursday morning, Miami Beach police said.

"What the f*** did I do? Why did you stop me?" Bieber asked the police officer who pulled him over just after 4 a.m., according to the arrest report.

…

The officer pulled Bieber's car over, but the singer was "was not cooperating with the officer's instructions," Martinez said.

"At first, he was a little belligerent, using some choice words questioning why he was being stopped and why the officer was even questioning him," he said.

He allegedly ignored a police officer's request to keep his hands on the car while he did "a cursory patdown for weapons," the report said.

"I ain't got no f***ing weapons," the arresting officer quoted Bieber as saying. "Why do you have to search me? What the f*** is this about?"

The arrest report describes Bieber as having a "flushed face, bloodshot eyes, and the odor of alcohol on his breath."

Bieber failed a field sobriety test, Miami Beach Police Sgt. Bobby Hernandez told CNN.

Two black SUVs blocked the traffic at 26th and Pine Tree Drive, which "facilitated an open road" for the two cars to race on Pine Tree, the report said.
This is the second brush with the law for Justin Bieber in as many weeks. Checkout Jon Stewart's take on his last brush here.
Justin Bieber ARRESTED For DUI, Drag Racing and Resisting Arrest [MUG SHOT] http://t.co/ukwhWu6NFj pic.twitter.com/jhncYxBtU4

— TMZ (@TMZ) January 23, 2014
---

LIKE My Facebook Page – Visit My Blog: EgbertoWillies.com
Follow @EgbertoWillies