Occupy The PGA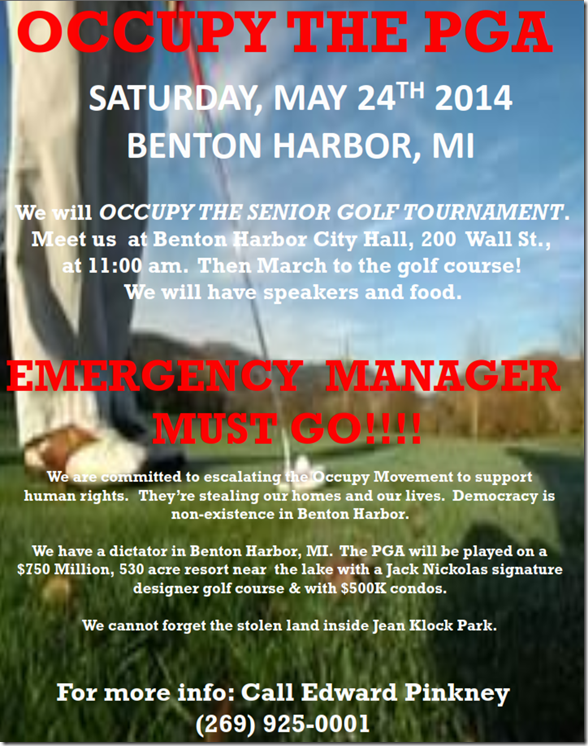 Occupy The PGA Contact:  Rev. Edward Pinkney (269)925-0001 banco9342@sbcglobal.net
Protest all injustices being forced on our town
11:00am – City hall, 200 Wall St., Benton Harbor, MI, 49022
11:30am – Press conference
History of some Benton Harbor murders
In southwestern Michigan, the St. Joseph River enters Lake Michigan between the towns of St. Joseph and Benton Harbor. White people live in St joseph, which is modestly prosperous, and black people live in Benton Harbor, which is a devastated city.
The body of a 16-year-old boy, Eric McGinnis, was recovered from the river.  He lived in Benton Harbor with his mother.  Eric McGinnis was dating a white girl and was being chased by a group of white people The white police chief said he fell into  into Lake Michigan and drowned. There was no foul play according the police chief.
Karrington Penny found in the snow dead in December 2013.  Someone slipped a molly into his drink.  Police stated no foul play.
Timothy (Bulldog) Allen's body was recovered from Lake Michigan with his penis cut off. Two white police officers were the last to see him alive. The white police chief stated no foul play.
A group of amateur scuba divers found the body of 34-year-old Dewayne Flowers in Lake Michigan, St. Joseph river side. The Berrien county sheriff's department diving team was sent to the site in the 400 block of Riverview Dr. in Benton Harbor after the Michigan Underwater Diver's Club reported seeing Flowers' body on November 30. He was weighted down with weights. The sheriff's department  stated no foul play.
The body of Mr. William Edward Hurse was found on the beach. It still isn't known how Hurse ended up in Lake Michigan and how he died.  Due to the condition of the remains, officials may never be able to determine the cause of death. His death was ruled no foul play.
The body of Toby Williams was found in the St. Joseph River. Deangelo Stockstell identified the body as his father.  He was loved so much stated relatives.  The death was ruled no foul play.
Terrance "T-shirt" Shurn was murdered by the police. He was bumped by a police car on his motorcycle. "Justified Homicide," the police stated.
Arthur Partee was choked to death by two white police officers.  This was ruled as "Justified Homicide."
During a police chase, a young man crashed into a fence.  Police forced him, causing his death. "No foul play," according to police.
People in the community are being killed and police always say, "no foul play." No investigations.
Police Officer Andrew Collins planted drugs on over 200 residents of Benton Harbor.
Wes Smigielski has violated more than 200 citizens of Benton Harbor.
The Benton Harbor Police Department and Berrien County Sheriff's Department will investigate a recall petition, but will not investigate a black man who was murdered by a police officer.
The sheriff and police departments just raided 5 locations
(supposed "drug houses") and netted 5 dime bags of dope, but refuse to investigate all the murders in our community.
When will the people take a stand against this extreme police brutality that wouldn't be tolerated for a moment in most communities?
We must say "enough is enough."  We want a complete investigation of the murder of Karrington Penny and Det. Wes Smigielski's involvement.
Resident Tina Braxton said, "This reminds me of the way things were in Mississippi when I lived there in the late 1950's and early 60's. I have never been one to rave about how much progress my generation has made, but I had hoped to see an end to these horrors in my lifetime."
---

LIKE My Facebook Page – Visit My Blog: EgbertoWillies.com
Follow @EgbertoWillies