The comeback of responsible labor unions are a must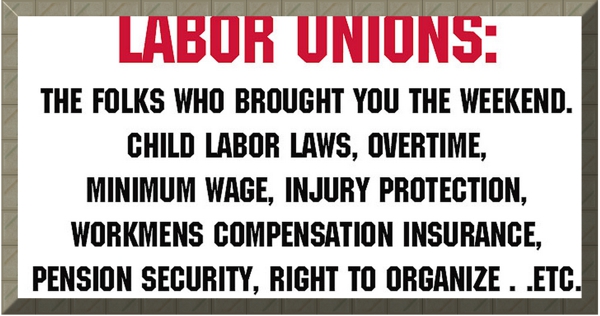 I am blogging about this incident yesterday because it illustrates the problem that is afflicting the middle class and the poor. It is a microcosm of what ails America.
Before heading to Starbucks, one of my "offices" where I blog daily, I enjoyed Mardi Gras in the Town Center with my wife and one of her friends. The friend came to visit her specifically to go to our Mardi Gras celebration in Kingwood. Why? My wife told her friend that there was a Black guy from a Tea Party group that sells Right Wing T-shirts and other memorabilia at the event yearly. It turned out the guy was a member of my wife's friend's rather Liberal Baptist church.
True to form, Mr. Tea Party was at the event. My wife and her friend had a long conversation with him. They disagreed with most of his Tea Party stances.
I interviewed this man here a while back. What he said was not different than one would expect. He was anti Obama, anti-union, anti-Affordable Care Act, anti-social safety net, and just about anything the government does except for the military.
When I got home much later, my wife and her friend were sitting and talking. I told them that this week I was going to visit the strike occurring at Shell and Lyondell at the Houston ship channel to provide support and to get a few interviews. Her reaction shocked me. She had left a Tea Party guy who had no insurance and no pragmatic answers to solve income inequality or an underpaid poor and middle-class. Yet she was disdainful of labor unions.
"I don't know what is wrong with those people," she said. "I have a friend who wants to work and they are blocking her husband from entering the plant. People have to get their bills paid. Those companies don't care and the labor unions leaders still get paid."
The problem is what she said is true. The problem is that she was unable to see was the big picture. The problem is that companies know many people take a defeatist attitude as they resign themselves to the status quo.
Sinking American wages and income inequality are directly proportional to the decline in Labor Unions. Corporations are betting that the middle-class and poor will continuously forego deep pain to maintain the status quo. Corporations are willing to take on minor pains to crush any labor union flare-ups.
My wife's friend's attitude would indicate the corporations are correct. The declining labor unions memberships indicate the same.
There is a silver lining however. After I spoke to her about how the American Plutocracy things changed. I explained to her that currently the Plutocracy is the ultimate wealth and income extractor. The numbers are absolute. I explained that unless the middle-class and poor show that they are willing to sacrifice to force pain on to those that are harming them nothing will change.
In a capitalist society, if the workers stop working, capital has no value. While the middle-class and poor know how to fight to survive, most of the owners of capital depend on being served by the masses and as such are really not the power they believe they are. I wrote about that here.
After the talk, she had a different perspective. I told her that it was important was that she shared the message within her sphere and encourage those in her sphere to do the same within the spheres of their own. It is all about building from the grassroots. No one leader will restore the middle-class. The grassroots, we the people must.