The Big Election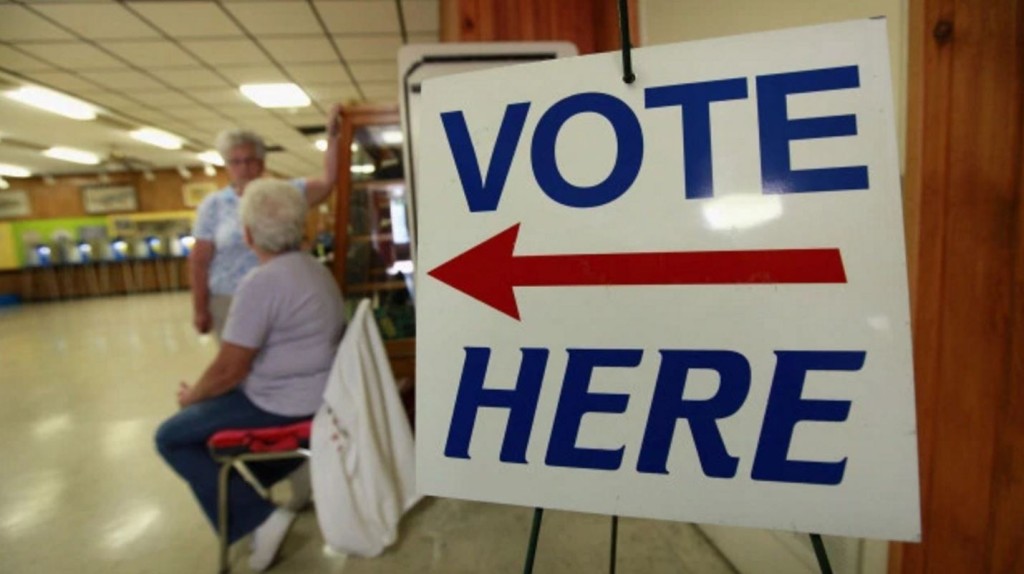 ---
This article titled "Trump and Clinton win Mississippi primary as Michigan votes – live" was written by Tom McCarthy, for theguardian.com on Wednesday 9th March 2016 01.42 UTC
Trump projected to win Mississippi
Within the hour of polling closures, Trump is recognized as the Mississippi winner. Trump won neighboring Alabama 43-21 over Ted Cruz, and Marco Rubio chalked up 19 points in the state.
The Mississippi margin looks healthy for Trump. More to come shortly.
Results from Michigan are trickling in, though not many have come yet. Eleven counties are now reporting, identified over in our maps room. With only 3.2% of results in, Kasich is hanging within a couple points of Trump. But it's early and the numbers are shifty.
FiveThirtyEight's Harry Enten sees a potential good sign for Trump:
Updated
Guardian politics reporter Ben Jacobs is doing a languorous backstroke in the Mississippi exit pool polls.
Ben observes Trump crushing Rubio head-to-head among Mississippi Republicans; Trump dependably losing more highly educated voters; Trump winning Magnolia state Republicans who care most about electability … and a whole lot more right here.
It's no surprise that the first polls of the evening are already show Hillary Clinton as the projected winner for Democrats in Mississippi but it is important insurance for the former first lady. That's because Bernie Sanders will be fighting to show he can give her a run for her money in Michigan, the other Democratic primary state with an election tonight. And a solid win in Mississippi will remind voters that even if Sanders can miraculously eek out a win or tie in Michigan, he'll still be losing handily to her when it comes to the nuts and bolts of the election: delegates.
Clinton is expected to trounce Sanders in Mississippi on a scale similar to what happened in South Carolina, where Sanders lost by close to 50 points!
Whatever happens in Michigan, this resounding win in Mississippi is a reminder that regardless of narrative and what pundits say about "momentum," Sanders is facing a lose-lose situation tonight when it comes to numbers.
Regardless of how the election goes, Sanders is powering on undaunted here in Miami tonight and his fired-up supporters do not seem at all ready to think about voting for Hillary Clinton yet, writes Guardian Washington bureau chief Dan Roberts:
There are repeated boos for the former secretary of state when Hawaiian congresswoman Tulsi Gabbard mentions her in introductory remarks on foreign policy.
Ramon Febus, a mature student at the University of Miami, is one of those in the crowd determined not to vote for Clinton if she wins, and is wearing a "Hillary for Prison" T-shirt in the shape of her campaign logo.
"Fool me once," he says, blaming Clinton for not standing by promises to his home of Puerto Rico when she was secretary of state. "This email scandal is like going after Al Capone for tax".
But he recognises that Sanders needs to do more much work to win the nomination.
"He needs to talk to minorities more and convince people like my Dad that when he speaks about socialism he doesn't mean Castro and Chavez," adds Febus.
Your one-stop video live stream
We have it on good information that this single magic live stream will tonight bring you speeches by the following:
Donald Trump – Jupiter, Florida;
Marco Rubio – Ponte Vedra, Florida;
John Kasich – Columbus, Ohio;
Ted Cruz – TBA;
Hillary Clinton – Detroit, Michigan;
Right now, you'll notice, the stream is bringing you a Bernie Sanders rally from Miami:
Clinton projected to win Mississippi
Hillary Clinton is projected to win the Democratic race in Mississippi, AP immediately projects. Donald Trump looks solid on the GOP side – but Ted Cruz appears to be competitive, based on exit polling.
A mountain of information about what kind of margins we're talking about to come shortly.
Updated
Introducing the Campaign Minute
Like what you read here? May we suggest that you subscribe to the Campaign Minute, our quickie daily digest of all essential news from the campaign trail. It's designed to be scrolled on your phone in… a minute. It brings a bias for politics fast and fun – and we would be tickled if you'd look into it.
Updated
Mississippi polls about to close
The first polls are about to close in tonight's voting, and we're expecting pretty much immediate results out of Mississippi after the 8pm ET whistle.
Hillary Clinton has enjoyed very large polling leads in the state, while Donald Trump has enjoyed slightly less large polling leads.
Exit polls have indicated a Democratic electorate made up of 61% African American voters. On the Republican side, exit polls indicated that the majority of voters – 74% – made up their minds more than "a few days" ago. Of those who decided in the last few days, 42% said they went for Texas senator Cruz.
Visit our comprehensive results page here:
Visit our comprehensive results page
Our mapped county-by-county results tracker is the place to follow tonight's returns – check it out here.
The exit poll temptation
In the 20 minutes before polls close in Mississippi…
Would you be interested in knowing that 42% of Mississippi voters who made up their minds in the "last few days" decided to vote for Ted Cruz? Or that the Michigan Democratic electorate tonight appears to have been about 69% white and 22% black? Or that 61% of Mississippi Democratic voters today and tonight were African American, or that… well you get the point.
Jump into MSNBC political correspondent Steve Kornacki's Twitter timeline for a wealth of exit polling results and theorize away. (The web site of ABC News is also a good source for exit poll results.)
Trump, who does not use pollsters, has apparently conducted an exit poll of one – and he likes what he's seeing:
Just come up for air every five minutes to repeat to yourself, "exit polls are not predictive. Exit polls are not predictive. Exit polls are not predictive."
But look at Kasich among late deciders in Michigan:
Donald Trump is scheduled to hold a press conference in Jupiter, Florida, at 9pm ET.
That's in 90 minutes.
And that appears to be raw steak, just sitting out. Unrefrigerated.
It looks like Trump really will throw his base red meat tonight.
But seriously what could this tableau mean? How will Trump work it into his speech? What point could he hope to make? Will he use the props to evoke the unsinkable quality of the Trump brand?
Will he serve it to the press?
Why is the news conference scheduled to land at 9pm ET, precisely when Michigan polls close?
(h/t: @bencjacobs)
Are you a Sanders-Trump crossover voter?
Digging through the comments in a recent callout we did to secret Donald Trump supporters, we noticed a very striking trend: a big chunk of people who contacted us were Bernie Sanders fans who said that if he failed to win the Democratic nomination they intended to switch their vote not to Hillary Clinton, but to Donald Trump.
Is that you? Are you that? We're fascinated and need you to tell us more:
Protesters at Mississippi statehouse decry flag
On the steps of the Mississippi statehouse on Tuesday, a collection of lawyers and pastors led a protest against the state flag – the last in the nation to feature the Confederate battle flag, writes Guardian US southern correspondent Matthew Teague from Jackson:
The protestors appealed to the one authority who may carry more weight in Mississippi than heritage does.
"The God of Jacob," said Carlos Moore, an attorney who has filed a federal suit against the state and its governor, Phil Bryant. "If God is with us, who can be against us?"
Mississippi's flag includes the Confederate emblem in its upper left quadrant. Tension around the flag has increased in recent years as similar flags in other southern states have come down. The latest was in South Carolina, and a lawyer from that state, Justin Bamberg, has joined Moore in his suit against Mississippi.
Holding a microphone on the Capitol steps, Bamberg addressed the state's leaders directly.
"Mr. Governor, if you are listening, I urge you to exhibit true leadership," he said. "Do the right thing."
Bryant has denounced the suit as an effort to override the people's will – in 2001, Mississippi residents voted to keep the flag's current design.
In the meantime the state's attorney general, Jim Hood, has said that he personally feels the flag should be changed, but considers it his duty to defend the state against Moore's suit.
On Tuesday the church atmosphere peaked when Jamal Bryant, pastor of Baltimore's Empowerment Temple, addressed the crowd. "I am here today because the Dukes of Hazzard were here yesterday," he said, referencing a campaign stop by presidential contender Donald Trump. The crowd erupted, and many people raised their fists.
"Trump is a living Confederate flag," the pastor said. "America has got to zoom in on Mississippi, and woe to us if we think it's just about a flag."
The protesters took up a chant: "Bring it down! Bring it down!"
Moore took the microphone again: "And the church said?"
"Amen!" the crowd responded.
Moore is 39, and after the demonstration he told the Guardian that he's suing Mississippi for personal reasons. "I'm doing it for my daughter," he said. She's 5. "I'm doing it for her generation."
Behind him, high on the statehouse steps, two members of the next generation of voters held a homemade sign. "This is not my flag," it read. And "Pro-black does not mean anti-white."
The girls, Maisie Brown, 14, and Brianna Cry, 16, said they came to the protest looking for insight from older people. "We'just learned about this two days ago," Brown said. "I just learned about the meaning behind the flag."
At the edges of the protest one woman stood openly weeping, holding a photo of her son. "He disappeared into the Mississippi system," Pamela Bennett said. Her son, 27-year-old Deonte, was serving a three-year conviction for marijuana possession, and returned to prison in November for parole violation. Two months later, on 5 January, he died in his cell. She said she was never allowed to see or speak with him while he was in custody, and has not yet received an explanation for how he died.
"I'm here because the flag represents the mindset that you can just disappear into the system," she said. "That's what the flag means to me."
Updated
Guardian Washington bureau chief Dan Roberts is not in a state that votes tonight, but he is in Florida, which could swing the election a week from tonight.
Dan's there because, in a sign of what's at stake on 15 March, all of the candidates are there or heading there. Donald Trump is an hour north of Miami, in Palm Beach, where he has scheduled a press conference at 9pm at the Trump National Golf Club in Jupiter. Hillary Clinton is flying in from Ohio tomorrow morning for the Democratic debate in Miami, and Marco Rubio has been in Tampa today. Ted Cruz, meanwhile, will host a rally in Miami tomorrow at 10am, and John Kasich will arrive in time for Thursday's Republican debate.
On the 15th the state will award 99 Republican delegates in a winner-take-all contest, and 246 Democratic delegates awarded proportionately.
Dan has found a bumper crop of Sanders supporters:
Updated
Mississippi voter profile
Name: Dale Williams
Age: 53
Occupation: Plasma cutting-machine operator
Voting for: Donald Trump
In Lucedale, Mississippi, Dale Williams only made up his mind as he entered the George County courthouse.
"Trump," he said. He shrugged his shoulders inside his denim overalls. "If he wins, great, if he doesn't, that's all right too."
Mainly, he said, he feels nostalgic for an America as he remembers it from his childhood.
"It was different when I was growing up, and I want a president who can take us back to there," he said. "We we ever make it back? Probably not. But we can do better than we are now."
His guiding principles were two, he said: "Biblical values, and the Constitution. I believe that's what the founding fathers had in mind when they set things in motion."
National poll depicts tightening GOP race
A poll released this afternoon from WSJ and NBC has found that the contest between Donald Trump and Ted Cruz to be Republican presidential nominee appears closer than previously thought, writes Guardian US data editor Mona Chalabi:
The national poll, which was conducted with just 397 respondents between March 3 and 6, found that Trump has the support of 30% of Republican primary voters – 3 percentage points ahead of Ted Cruz and 8 percentage points ahead of Kasich (who, after months of polling in single digits, appears to have grown in popularity in the past week).
Marco Rubio was in fourth place with just 20% of respondents selecting him as their first choice for Republican nominee.
Partly because of the low number of respondents, the margin of error on this poll is considerable – plus or minus 4.9 percentage points which could change the results significantly.
Compared to other national polls, collected and averaged by the site Real Clear Politics, Trump's lead seems small – five polls collected between February 19 and March 6 (including the latest from WSJ/NBC) find an average Trump lead of 15.2 percentage points.
Hello and welcome to our live-wire coverage of the big Michigan primary races and other voting across the country tonight. We expect to have results in some form for you in under two hours. Michigan polls close at 9pm ET.
Michigan's important because it's big, it's symbolic of American manufacturing, is a potential regional bellwether (Ohio votes in one week) with an interesting demographic mix and because it would be a big deal for a Republican to show real strength here (the state is considered likely to land Democratic in the general election).
Mississippi is also hosting a primary tonight (8pm ET poll closure), and Idaho (11pm ET) and Hawaii (1am ET) are hosting Republican caucuses. We'll bring you dispatches from the ground and immediate results all night, as finely pared as you care, on our master results page.
Let's play pundit: Donald Trump's Michigan result tonight will indicate whether his candidacy is continuing to lose altitude following his loss on Saturday in Kansas, a state he once led by double digits. Trump is in a terrible news cycle (see below) and Ohio governor John Kasich and Texas senator Ted Cruz both appeared to be nipping at his heels in weekend survey results.
Polling averages have Trump up 12 points in the state. Nationally he's been pulling between 34% and 35% of the vote on average. Can Trump hit that mark in Michigan? If he doesn't, there will be whispers … significant whispers. And should he lose – look out.
On the Democratic side, Vermont senator Bernie Sanders has taken his pitch for a reordered economy to voters with bittersweet memories of a once-thriving auto and manufacturing sector. Michigan's demographics, with a mix of white and highly educated voters and an average African-American population, don't look bad for Sanders – and yet former secretary of state Hillary Clinton leads polling averages by 20 points.
A quick note on Trump's bad Tuesday: the Better Business Bureau debunked his claims about the quality of Trump University, a report came out that a previously unacknowledged amount of Trump-branded merchandise is made overseas, and a report came out that Trump claimed a tax break reserved for households making less than $500,000 a year.
guardian.co.uk © Guardian News & Media Limited 2010
Published via the Guardian News Feed plugin for WordPress.