Radio hosting, media, and blogging have afforded me the opportunity and reach, to meet people of all strides, ideologies, and interests. It has also shrunk the world validating the phrase "six degrees of separation." I had coffee with two generations of a family of doctors with divergent opinions on health care, economic justice, and egalitarian society. It was clear why it is time that we adopt ideas coming from our millennials and Gen Z folk.
The country needs new leaders. And it can't be by those who have placed it on the brink of a virtual apocalypse. Millennials / Gen Zs are ready.
Millennials Anand Bhat. MD and Dr. Mythili Ramakrishna Bhat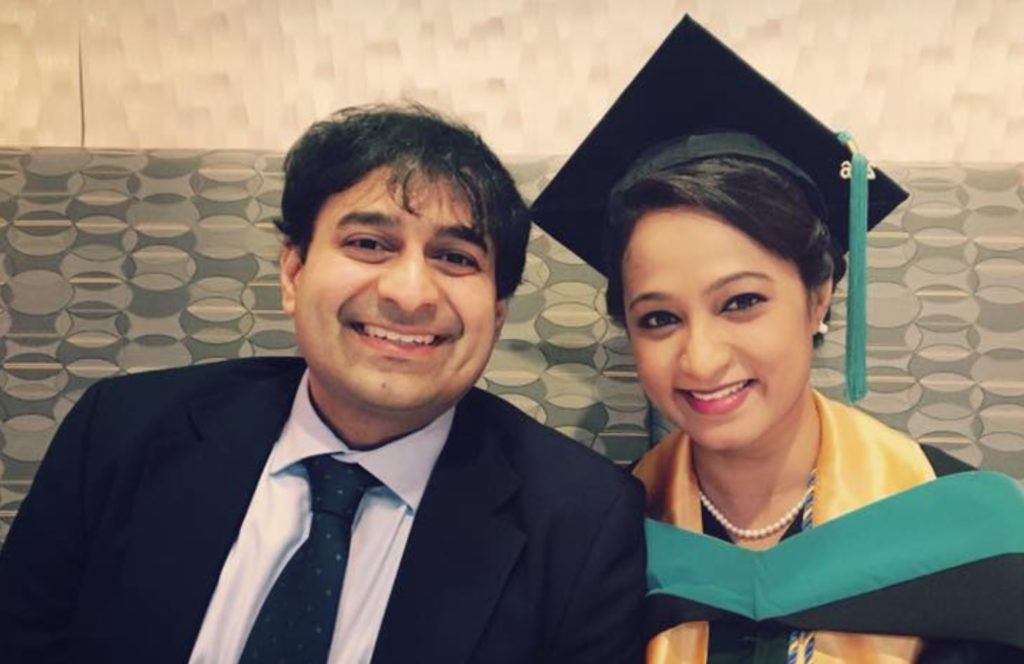 A few weeks ago I told the story of the chance encounter with a doctor at Starbucks. We had an extensive talk on health care, economics and much more. After he left, he called up his son, a doctor in the Midwest. Unbeknownst to the doctor, his son knew me. He ran back into the coffee shop to tell me his son knew me through my show Politics Done Right that airs on Pacifica Network KPFT 90.1 FM, Coffee Party USA Network, and Blog Talk Radio.
After speaking to his son, Dr. Anand Bhat, we recalled meeting as Bernie Sanders Delegates in Philly, he from Ohio and yours-truly from Texas. Another commonality, we are both graduates of the University of Texas at Austin. Of course, I am the elder statesman. I was very impressed with Bhat's wisdom and his genuine empathy for those who are negatively impacted by our immoral and draconian health care industrial complex.
Anand and I communicated and exchanged ideas throughout the last several weeks, and he gave me a somewhat critical article that he wrote, "The Myths and Lies of the Health Care Quality Industrial Complex," which I posted to my website. He also sent me a refutation he wrote for a Single-Payer Medicare for All hit-job-article in The Economist. I knew I had to have him on Politics Done Right. He was visiting his Houston family for Thanksgiving. We took the opportunity to record a show on his two articles. Listen/watch the show here.
After recording, the show, Bhat and I discussed issues from the pathetic state of our health care to economics. He wanted me to meet his wife and activist in her own right who traveled the world, from the UK to Africa, to the U.S. to Brazil and beyond learning and honing her fact-based activism skills. Suffice it to say I was just as impressed with Anand's wife, Mythili Ramakrishna Bhat. This couple complements each other well. Mythili shares the same passion, idealism, and altruism that I firmly believe in while Anand tempers the intensity with a path he envisions is more attainable. Check out her article "What does it mean to be in a nation where health is a constitutional right?" It gives you some of her perspectives.
We spent a couple of hours at Javaman Coffee. Suffice it to say the coffee and beignets were to die for, fresh, hot, and reminiscent of those I had at Netroots Nation 2018 in New Orleans at Café Du Monde. But I digress. We spent the time talking mostly health care interspaced with some economics. Anand's father joined us, and a dynamic discussion was on about solutions to our health care and economic dilemma.
Anand's dad, Dr. Kris Bhat, while he would support any solution that works, is stuck in a more conservative and risk-averse stance on just about every issue. Moreover, he is much more sympathetic to the corrosive nature of an economy based on neo-liberal concepts. Anand, Mytheli, and of course yours-truly share a completely different view, a more egalitarian view that affords all equal access to success.
I was so impressed with the conversation; I decided to use my channel to give these two millennials a voice, a different audience. We will publish their writings and have an on-air series with them,
Those who placed us in this quagmire, those set in their ways, and those who buy into a failed ideology of extraction won't be the solvers of our problems. I work with Gen Zs, Millennials, and Baby Boomers. Solutions in the aggregate will come not from the latter. It's a new day that requires new blood and new thought processes.