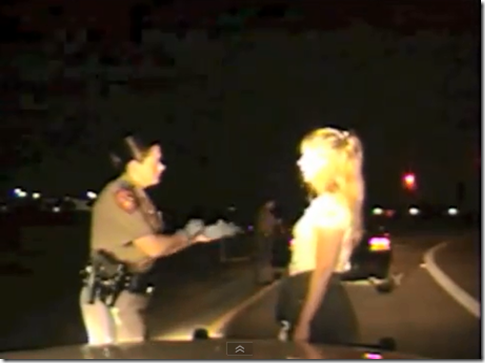 Has Texas become a police state? If anyone doubts there is a War On Women in Texas, this is proof positive. It is evident from the videos that the police officers think this is standard procedure as they acknowledge they are on video. They do not believe they are doing anything wrong. They have been conditioned to believe that a woman's person is subject to whatever laws or actions they deem reasonable to them at any given time and for any reason.
In a state where a Congressperson believes a rape kit can be used to cleanout a woman after a rape when passing a draconian anti-women, anti-abortion, anti-contraception, anti-family planning bill, this should be expected. Having the graphic video makes it more appalling.
In the above  video the two young women are cavity searched while not under arrest and there was no change of latex gloves between women. One of the women defeated and humiliated by the search said the following.
This  has been an eye opening experience for me OK. Never been pulled over. Never searched like this. I was like totally violated over there a few minutes ago. I had a finger in my ass and a finger in my pussy. I am,this is so embarrassing to me.
The officer implied that this was done because of the smell of marijuana? Then he tells her to be on her way.
---
In this video after the officer stops the woman for speeding, he searches her car. He did not find anything so he decided to have an officer do a cavity search. She is visibly embarrassed.
In a state controlled by a Party that wraps itself in the constitution, these acts are not limited to women. During the debate on a bill to make abortion inordinately difficult & reproductive care difficult, the Texas Capitol in Austin looked like a police state.
Sources: Daily News, Liberals Unite
---

LIKE My Facebook Page – Visit My Blog: EgbertoWillies.com
Follow @EgbertoWillies