Susan Combs Speak Up Against Republican Misogyny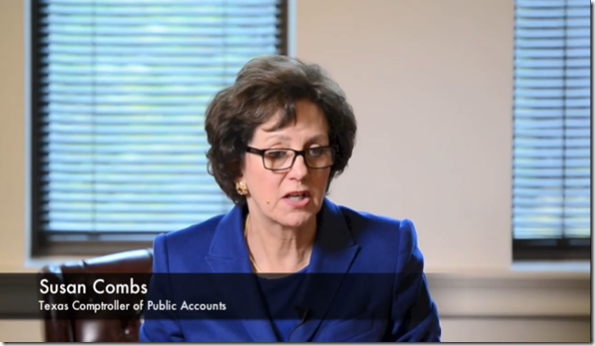 Wendy Davis' impact in Texas is becoming ever more prescient. She has revitalized the Democrats, the Progressive Movement, and the Women's movement in Texas. Now she is running for governor with enthusiastic base support. Her epic filibuster brought her to national prominences. What she represents is driving the narrative in Texas.
A few weeks ago Texas Governor Rick Perry's wife Anita Perry was interviewed by the Texas Tribune. She stated that abortion "could be a women's right". Anyone who believes that this statement was an accident does not understand Texas politics. This was a signal to Republican women that it was OK to speak out against Republican male misogyny. This came from the top. Yes she tried to backtrack a bit. However the video shows a comfort in a well coded message.
Today one of the most powerful women in Texas spoke out to the Washington Times. Susan Combs is the Texas Comptroller of Public accounts. She said the following.
Women care about their children, their families, their jobs, their future; real core stuff. Tell me you care about my children. Tell me that you care about my grandchildren. Tell me that you give a flip about women's interests. If all you want to talk about is my biology, gee, what happened to my brain? I mean that's  my point. It is not all south of the waistline.
---
This is a stinging indictment of the Republican Party. It is evident that even Republican women have had enough of "legitimate rape", "the Richard Murdocks", and other Republican misogynists.
Most importantly Republican women are being forced to speak up against Republican misogyny. Every Texas woman sees themselves in Wendy Davis. They see her fighting a fight they thought was already won. No real Texas woman or man wants to be on the wrong side of history.
Forget today's polls. Texas is at a tipping point. The nation is at a tipping point. The Virginia results should inform one's view. A presidential election year demographic voting in an off year election should be probative.
---

LIKE My Facebook Page – Visit My Blog: EgbertoWillies.com
Follow @EgbertoWillies