In Nikki Haley's state ideology trump jobs.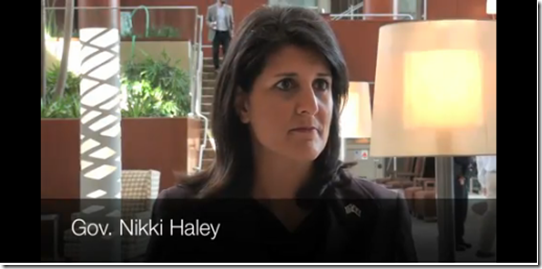 After Volkswagen workers decided to turn down unionization at their plant, pundits called it a defeat for the UAW. The reality is that this was a loss for the workers. There is ample data that shows that America's decline in wages track the decline of worker unions, It is disconcerting that workers continue to believe and articulate the false narratives they have been fed by well-funded campaigns. The backlash was swift as the head of VW's works council said it would be unlikely anymore factories would be built in the South.
Then there was Nikki Haley (R-SC), governor of South Carolina. GreenvilleOnline.com reported the following.
South Carolina is glad to have non-union jobs from BMW, Michelin and Boeing, but don't expect any factories from Ford, General Motors, Chrysler or other companies with unionized work forces.

According to Gov. Nikki Haley, they're not welcome.

Haley said Wednesday that she discourages companies from building new facilities in South Carolina if they are planning to bring a union with them.

"It's not something we want to see happen," she told The Greenville News following an appearance at an automotive conference in downtown Greenville.

"We discourage any companies that have unions from wanting to come to South Carolina because we don't want to taint the water."

State Sen. Vincent Sheheen, Haley's Democratic opponent in this year's gubernatorial race, said he thinks South Carolina should remain a right-to-work state where workers are free to decide whether to join unions or not.
Watch Nikki Haley making those devastating anti-union comments below. She would deny South Carolinians jobs if companies providing the jobs are unionized. In other words her ideology trumps what is best for the citizens of her state.
Nikki Haley said the following in her 2012 State of the State address.
Finally, I love that we are one of the least unionized states in the country. It is an economic development tool unlike any other. Our companies in South Carolina understand that they are only as good as those who work for them, and they take care of their employees. The people of South Carolina have a strong work ethic, they value loyalty, and they take tremendous pride in the quality of their work. We don't have unions in South Carolina because we don't need unions in South Carolina.
What Nikki Haley neglected to say is that South Carolina takes such good care of their workers that they are ranked 44th in 50 for income. Is Nikki Haley working in the best interest of the citizens of her state?
---

LIKE My Facebook Page – Visit My Blog: EgbertoWillies.com
Follow @EgbertoWillies