Saturday 12:00 Noon Central/1:00 PM Eastern
Call In, talk and/or Listen: (646) 929-2495
Listen On Computer/Smartphone Live/Podcast: HERE
---
This week's show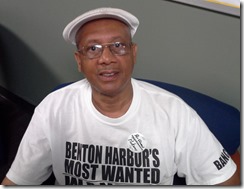 Last week I attended the Democracy Convention in Madison Wisconsin. I participated on three panels representing Move To Amend that led to very in depth conversations on much that is occurring in our body politic today.
Before I go any further I ask that you help Move To Amend reach the 500,000 signature goal by signing the We The People Amendment. I met a lot of activists including Cindy Sheehan, Dr. Jill Stein, John Nichols, Reverend Edward Pinkney, and many others.
This week I am honored to have the Reverend Edward Pinkney, a powerhouse in Benton Harbor that is the driving force behind the protests and a real grassroots movement against the town having an Emergency Financial Manager. I want to use Reverend Pinkney as a segue into a discussion of empowering through the grassroots.
Give me a call. Let's talk.
---
My Blog Posts Of The Week
My Other Posts At AddictingInfo.org
---
Coffee Party Radio Shows
---
Coffee Party USA is supported solely by memberships and donations.  Please consider joining or making an additional donation.  Thank you!
---

LIKE My Facebook Page – Visit My Blog: EgbertoWillies.com
Follow @EgbertoWillies